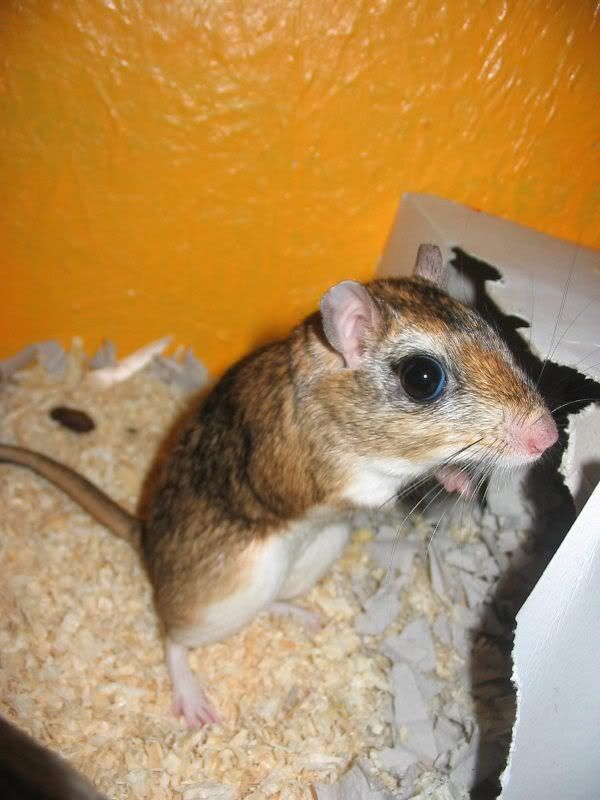 This is a Naked-Soled Gerbil, Tatera indica, also known as Indian Gerbil or Antelope Rat. They are related to Mongolian gerbils, the most common pet gerbil, but not closely (
the gerbil family is huge
).
I've got mine from a friend who in turn rescued them when someone abandoned all her pets. Apart from the Naked-Soled gerbils, there were all kinds of mice, gerbils, hamsters and other exotic mammals, all severely neglected (cages not cleaned for week or months, dead animals everywhere, no food and water). The person just left and told no-one until three weeks later. I wasn't there, but what I heard was enough to make me want to strangle that person.
The gerbils are very shy, I can't handle them at all. But they are interesting to watch and I think they are quite cute with their big eyes - and they are extremely curious, always watching me to see what I'm doing.
That's Rygel (although it's actually a female) - she's probably almost blind due to a wrong diet, fruits and sugary treats can cause diabetes and other problems like cataracts with many rodents (dwarf hamsters for example). It doesn't bother her, though.
And this is Baron Harkonnen
He's so bald because they groom each other so much that their hair falls out. It's called barbering, fancy mice and rats sometimes do it, too. I think that it may have been caused by being kept in a tiny cage, just out of boredom, and now they can't get rid of it. They live in a 6ft long cage in my kitchen, Naked-Soled gerbils have about the size of a small rat and really need that much room.
See more critters over at the
Camera Critters meme