Here's something I've wanted to blog about forever, because it's a big part of my world, but I didn't have any good photos to go with it: roleplaying. I've been doing that for over ten years, usually once a week, and it's great fun. What I do it called Pen and Paper because you get a character sheet and just talk about what you're doing instead of acting it out, with costumes and everything (
Live Action Role Play aka LARP
) or illustrating what you do with miniatures (
Miniature gaming/Tabletop
)
I game with a group that meets every Thursday, but yesterday my boyfriend and me gamed at a sort of mini-convention: about fourty roleplayers from Hamburg met, several different roleplaying systems were offered and people chose what they wanted to do and we played the whole night, from about nine p.m. to six a.m. Here's my group: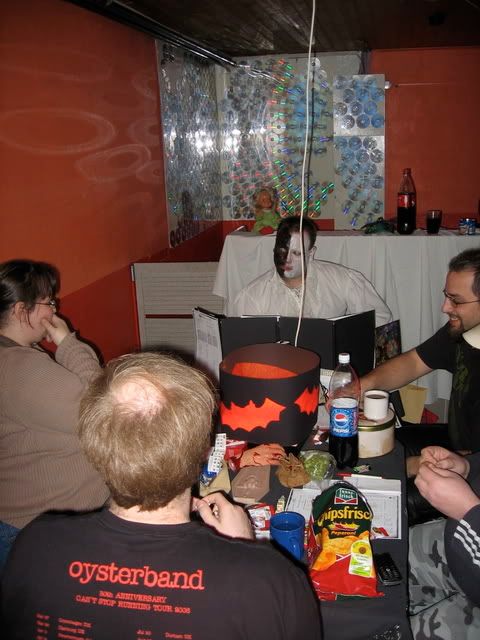 The guy with the makeup is the gamemaster, he tells the story and plays all characters that the players meet. The makeup is not compulsory, just a personal gimmick.
We played
Call of Cthulhu
, a horror roleplaying system based on the stories by H.P. Lovecraft. Each of us got a character with different skills ect., I was a physician - always useful when people get hurt ;) The gamemaster tells the players what they see, the situation they are in (we were a group looking for our mentor, a rich collector of weird items who had been missing for a while) and then the players in turn tell the gamemaster what they do, interact with each other and the people they encounter during the game. When it needs to be decided if someone will manage a certain feat like climbing over a fence or bribing a guard to let the group into the museum after hours or if your character manages to stay calm despite the monster advancing on him/her, dice are rolled, according to the skills the character has.
Unfortunately, all our characters died... But with Cthulhu, that is always something to be expected, going insane is also very possible. Other roleplaying settings are not that dangerous (although it should always be possible for a character to die, it makes things more real and more fun - being a superhero is more boring than you might think). But we still had a lot of fun, the story gave us the creeps in many situations and despite that fact that there was a very loud Turkish wedding next door and several other gaming groups in the same room, we quickly became so absorped with the story that we didn't notice anything, not the loud music, not the group gaming next to us - it was like reading a really griping book, only we decided what was going to happen next.
It's a great hobby and there are many systems, from fantasy (the classic Dungeons and Dragons, the first pen and paper system ever) to science fiction to horror to Steampunk to Wild West to pirates/swashbuckling adventures - or you invent your own world and system. If you get the chance to game, I recommend that you give it a try!
See other people's world over at
MyWorld Tuesday