We visited the Wildpark Lueneburger Heide last Monday. It's a zoo that focuses on native species (German/European), with a few additions and has huge enclosures in a lovely landscape. I like it because apart from the zoo animals, you can see tons of other wildlife since it's kept as natural as possible.
I saw a Goldfinch (Carduelis carduelis) for the first time in my life, the most beautiful of all native species for me, just look at the red face!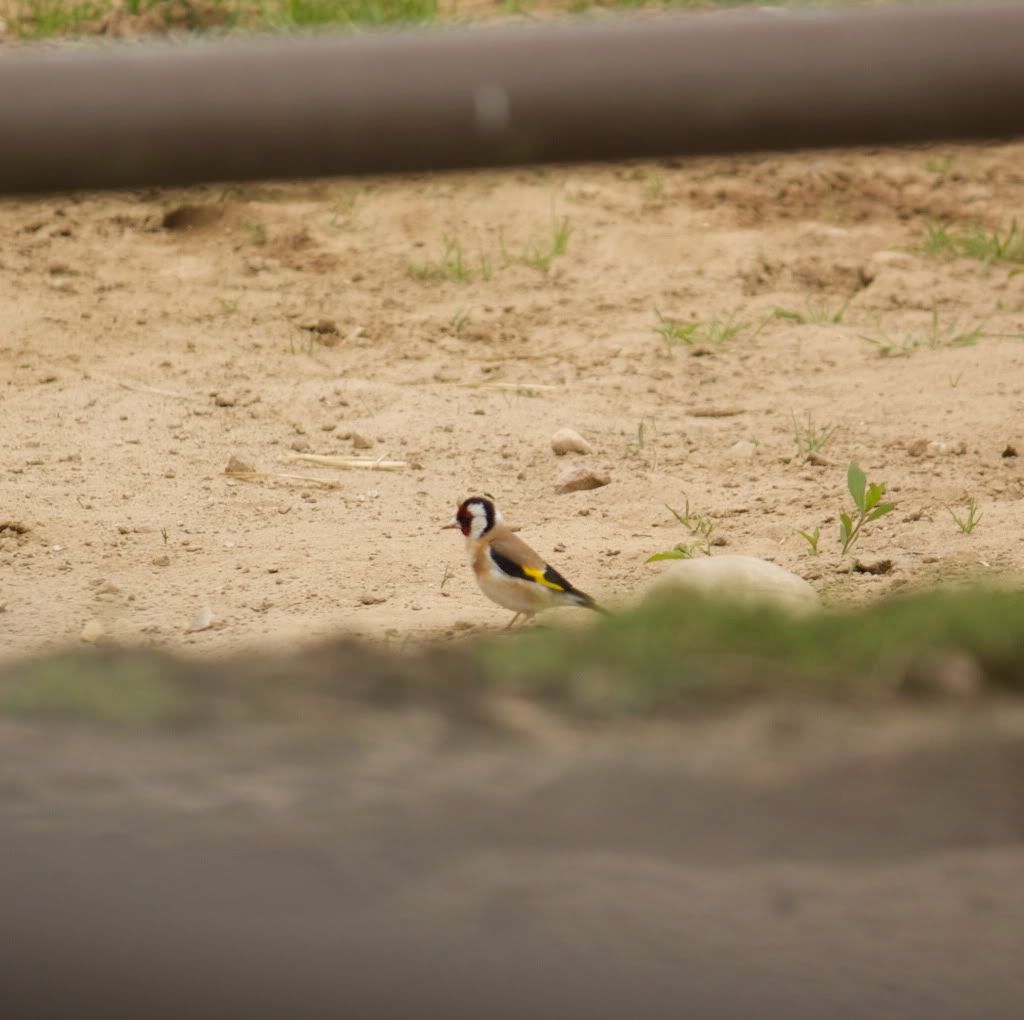 A White Wagtail (Motacilla alba), there were a lot of those around. The are called Wippstert in the Hamburg dialect, wipp is wag and stert is tail
A male Red Deer (Cervus elaphus)
and a male Dybowski's Sika Deer (Cervus nippon) - the antlers are just growing and are very warm and soft to the touch (but he didn't much like being touched there - he enjoyed being scratched behind the ears, though)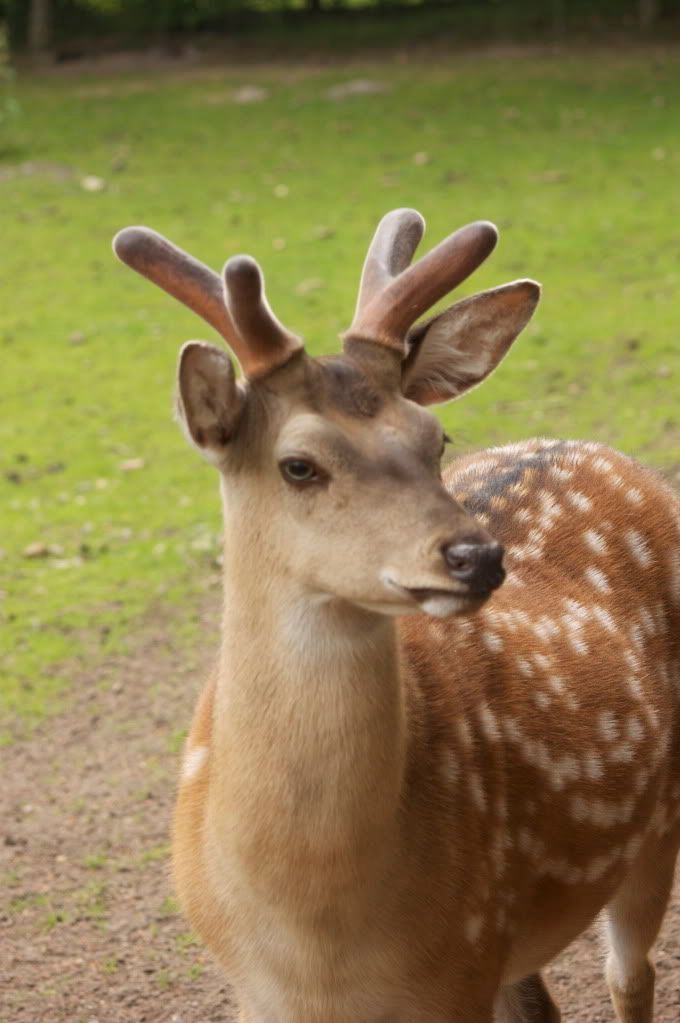 A Husum Red Saddleback Pig, also called a Husum Protest Pig. At the beginning of the 20th century raising the Danish flag was forbidden for the Danish living in
Northern Frisia
(it had been something of a Danish colony before, but then and now belonged to Germany). So instead the farmers bred these pigs which show the national colours red and white.
a European Robin that came to see if we dropped any crumbs - it came very close and wasn't shy at all - I didn't zoom in for this picture.
a Heidschnucke, a special breed of sheep once common in the area around Lueneburg. The Lueneburg Heath was created by those sheep and depends on them, so after almost dying out, the Heidschnucke is now bred again and you may even see a shepherd with a flock of them wandering across the Heath.
a baby Mouflon (Ovis orientalis orientalis), one of the ancestors of domestic sheep.
a Fallow Deer (Dama dama) - it had learned how to operate the water fountain meant for humans with its mouth and so could have a drink in peace while the other deer had to jostle at the fountains actually meant for them. It has to press down a switch with its tongue or maybe bite on it, but anyway it worked well enough.
a Kodiak bear (Ursus arctos middendorffi), the largest of all brown bear species.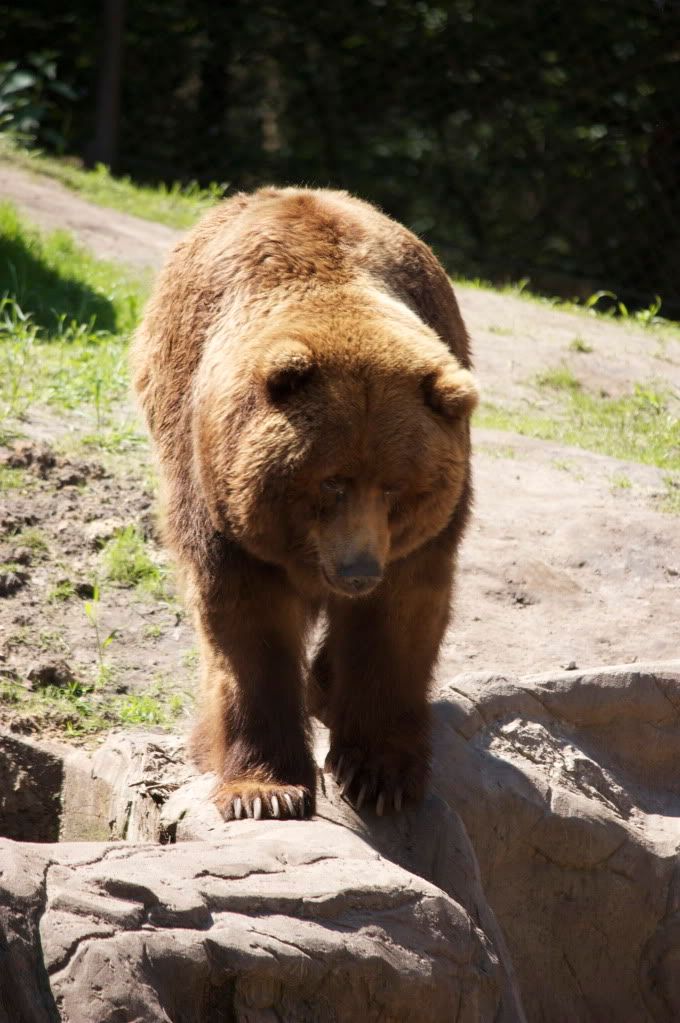 an adult and a baby Chamois (Rupicapra rupicapra)
a Fieldfare (Turdus pilaris) busy gathering food for her chicks
a very content wild boar (Sus scrofa) snoozing in the sun
an Ural Owl (Strix uralensis)
can you see the butterfly? It's amazing how well camouflaged it is with its wings closed.
it's a Painted Lady (Vanessa cardui) ... butterflies have such cool English names!
I hope you enjoyed the tour and if you want to see more animals, check out the
Camera Critters meme