The
Museum fuer Kunst und Gewerbe
is one of my favourite museums in Hamburg. They have an amazing, huge collection of such things as porcellain, jewellery, textiles, musical instruments from ancient Greek to modern times. At the moment they're renovating and some collections are closed, but there's still a lot to see.
Let's start in ancient Greece and Egypt.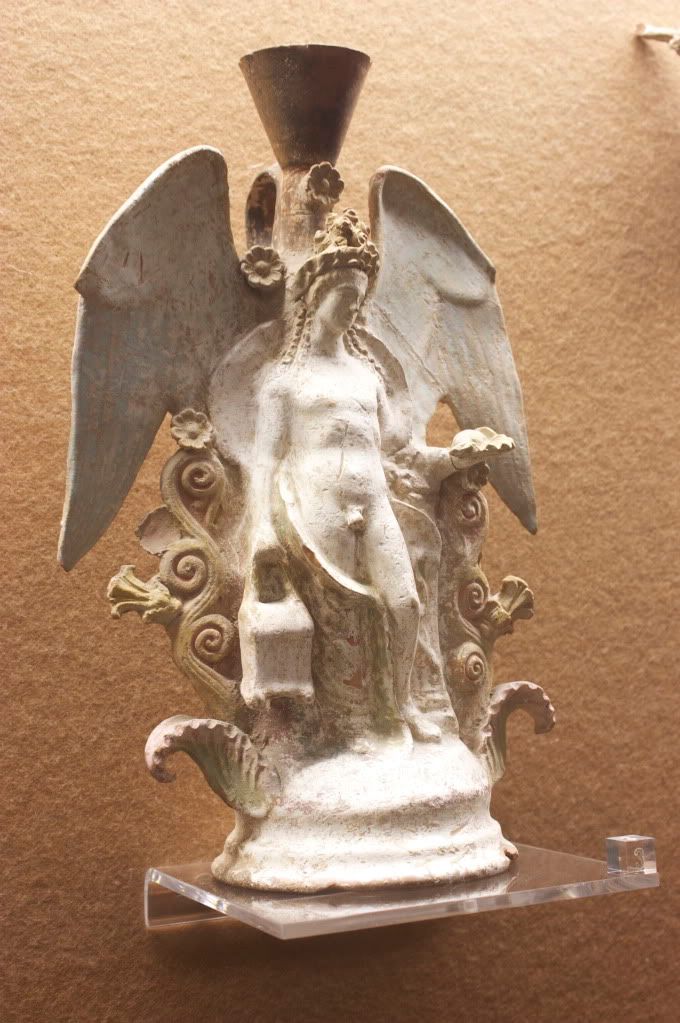 a statue of Eros, from around 400 BC
click to see a bigger version - the painting on the vase shows Athena, who was born by jumping from her father Zeus's skull, marching towards life along Zeus' arm. The vase dates to 460 BC.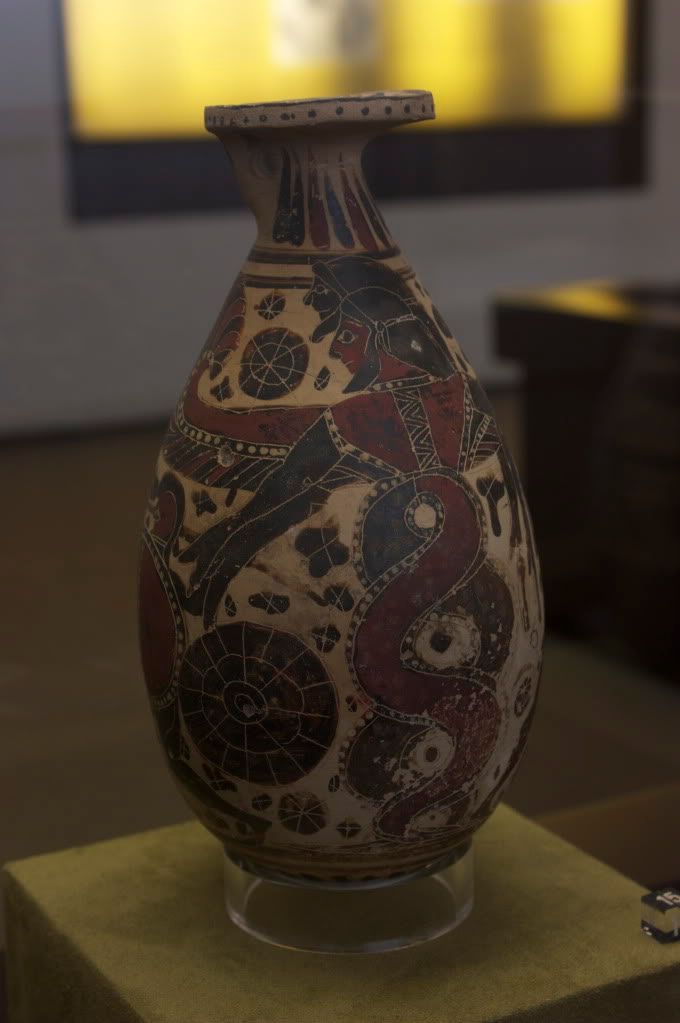 a demon fighting warriors (600-575 BC), from Corinth
this is a kantharos - a piece of pottery used for drinking, they came in a great variety of shapes (460 BC)
a
silenus
(silenoi?) is carrying a girl while playing a game of
Ephedrimos
(300 BC)
a mummy mask, 100-200 AD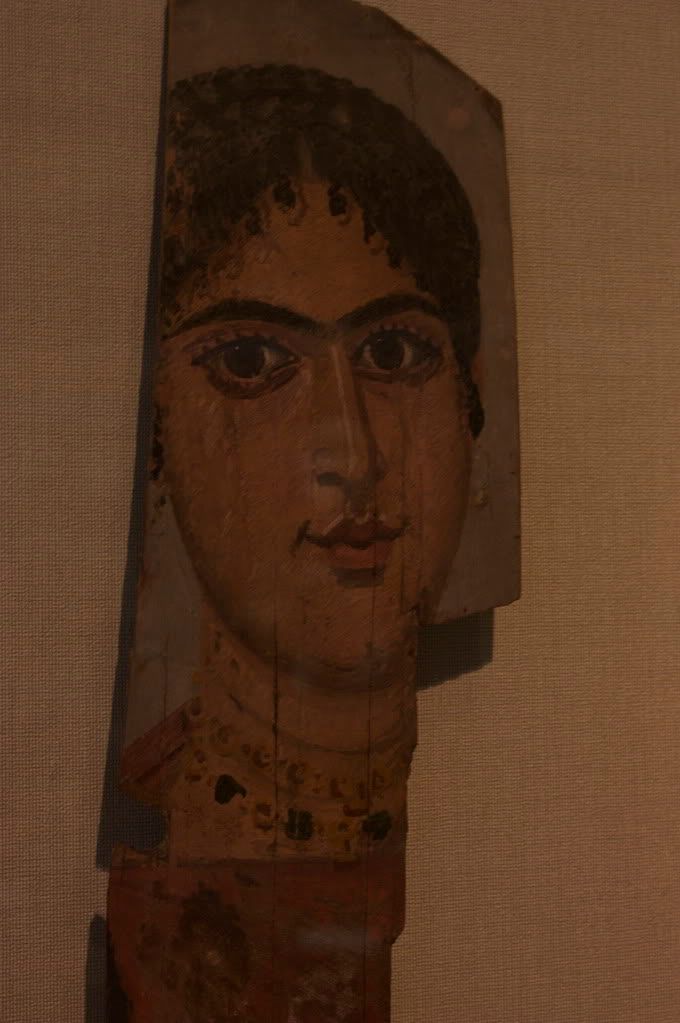 a mummy portrait of a young woman from the
Fayum oasis
. These portraits are very realistic and give us an excellent idea of how people looked, what they wore ect.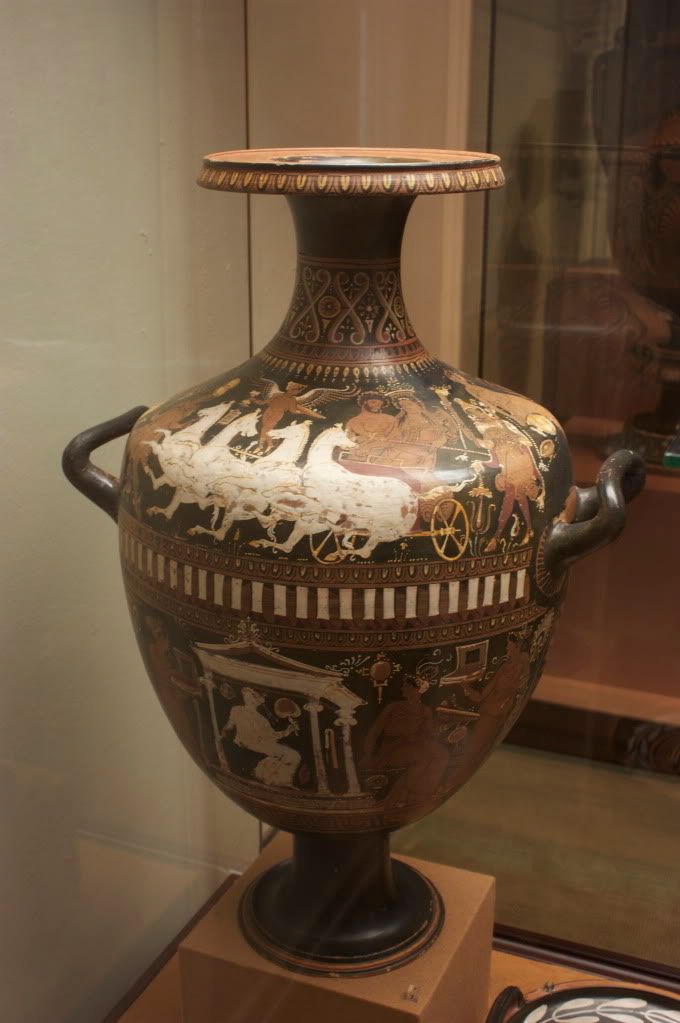 a hydria, a vase found in a grave in Apulia. It was never meant to be used in daily life, but purely as a burial object
a figurine of a boy riding on a pig - I like his face (300 BC)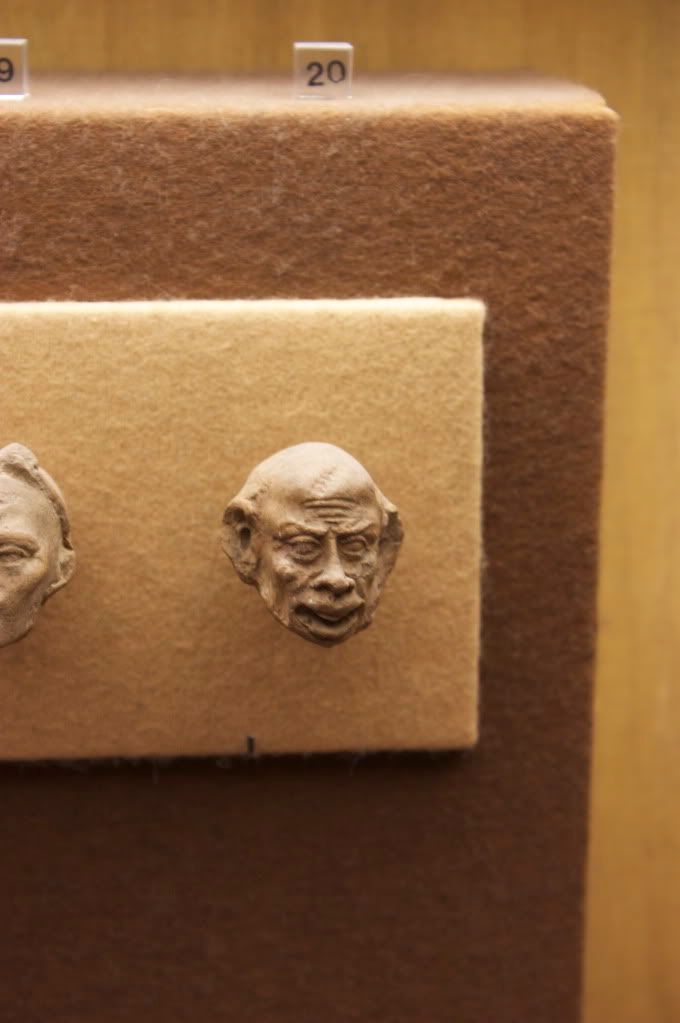 Some caricatures of people from the lower classes. The details of their faces are amazing.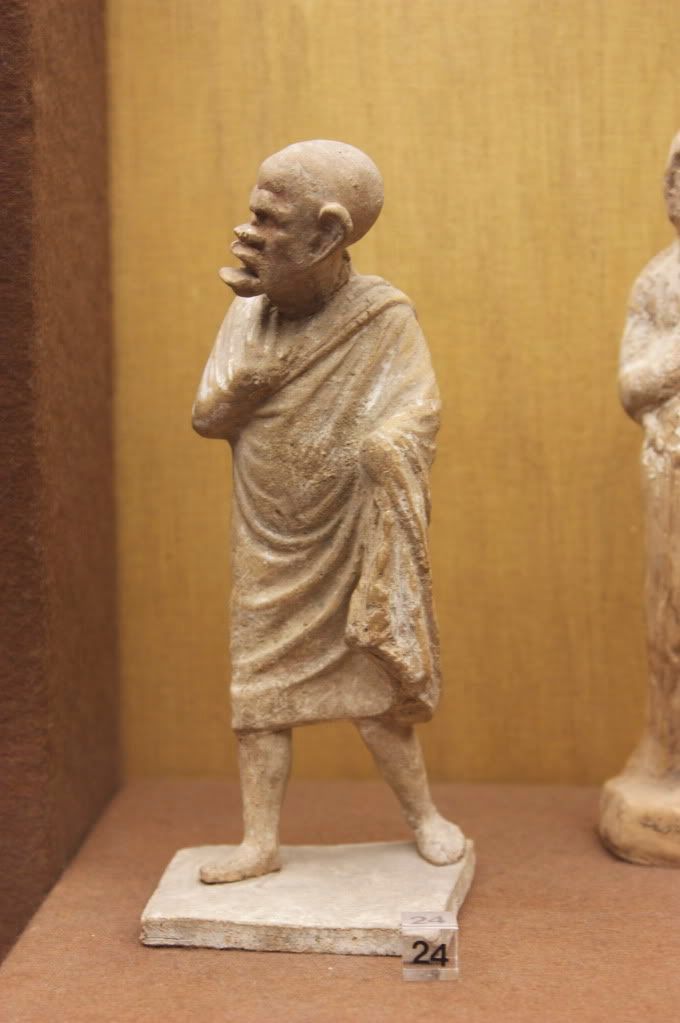 an actor wearing a comedy mask, 100 BC
my favourite piece in that section, a figurine of a little reading girl from Greece, 300 BC.
an earring. Again, click for a bigger version and you can see a tiny woman who is playing a game of Astragaloi (knucklebones). You take five goat knucklebones, throw them up and then try to catch all of them on the back of your hand. Below the earing are two decorative pieces in the form of knucklebones. The whole piece of about 1.5 inches long. 300 BC.
There's also a small collection of Roman busts and I was fascinated by the detailed, lifelike faces. Some are known (the first one is Livia, the wife of emperor Augustus), but most are anonymus. it makes you wonder who they were and what kind life they lived. They date from around 50-100 AD.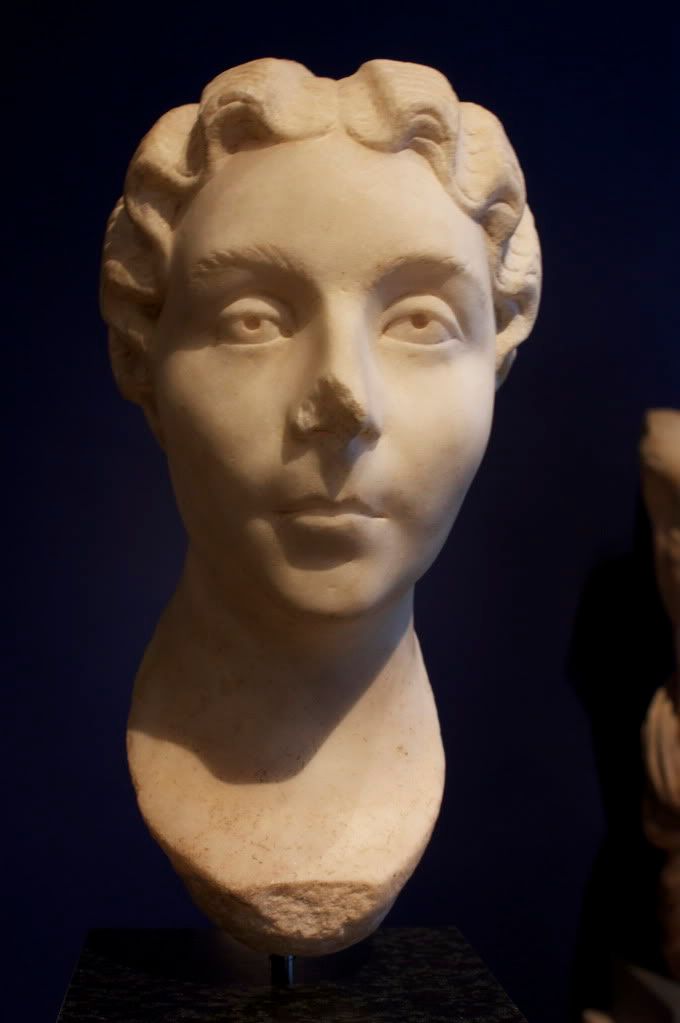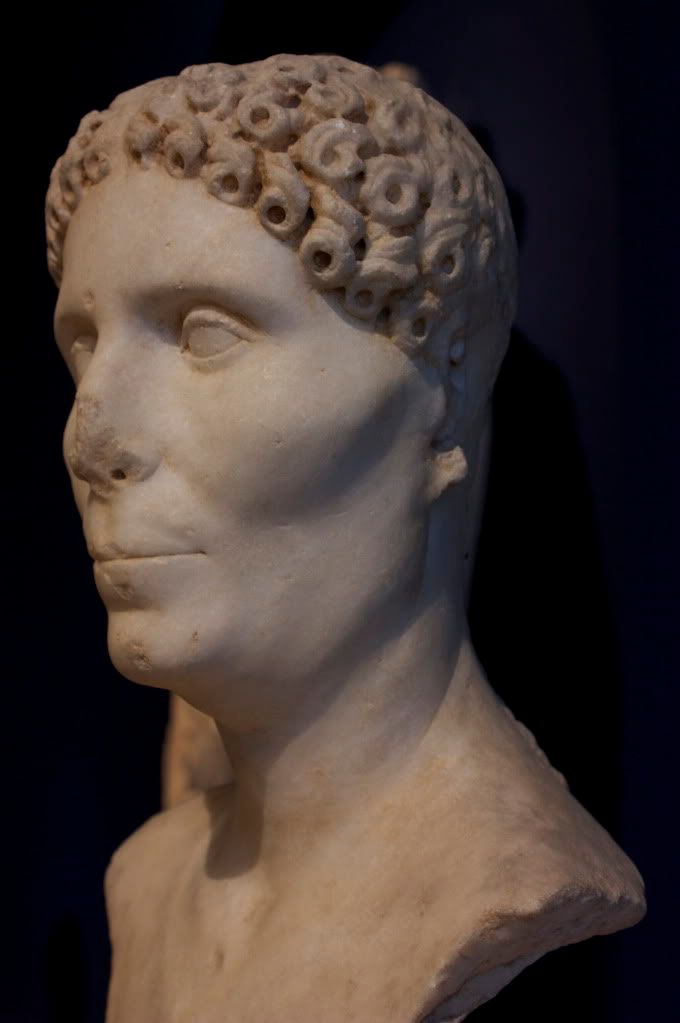 to be continued (we're going to Asia next time)!
Travel around the world with
MyWorld Tuesday