This is an
ABC Wednesday
and
MyWorld Tuesday
post.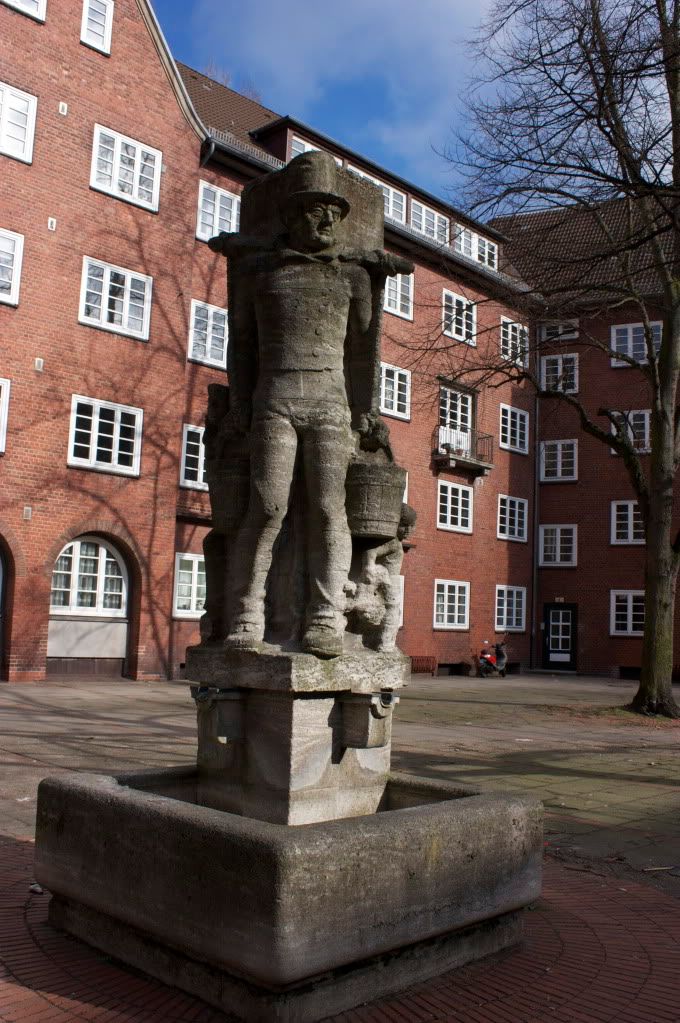 This is the Hummelbrunnen (Hummel fountain) in Hamburg. It shows the watercarrier Hans Hummel (1787-1854) who apparently was a grouch and when children tried to annoy him by calling to him "Hummel! Hummel!", he answered with "Mors! Mors!" - which is short for the Low German Klei di an'n mors and means kiss my ass.
Sometimes it's said that Hummel Hummel - Mors, Mors is a greeting in Hamburg, but it's not and all you will probably get is a strange look. Sometimes people from Hamburg use it when they travel and meet another Hamburger, as a sort of verbal secret handshake and soldiers in WWI used it as a battlecry.
Hans Hummel is what is called a Hamburger Original - a Original means someone with a peculiar personality or trait, someone everyone in the town recognized,
Emperor Norton
for example would certainly have qualified as a San Francisco Original.
Hummel is still very well known in Hamburg and apart from the fountain, there are colourful sculptures of him all over the city. They were auctioned to raise money for homeless people, but many owners allowed the sculptures to be left where they are. Here's a
picture
of one of them.
Just in case you don't know what a water carrier is: someone who carried water from the nearest public well to people's homes for a small fee. It was common in some places like Hamburg and Venice, for example, but not a widespread occupation.