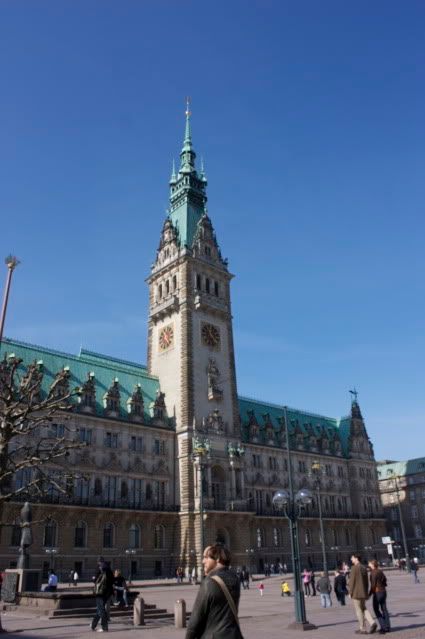 This is the Hamburg city hall. The old Rathaus was destroyed in the great fire of 1842 and it took 44 years to complete the new one. Since the ground is swampy, it's build on 4000 oak poles.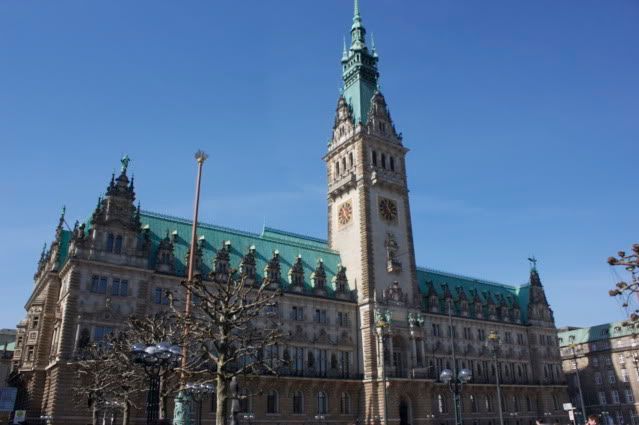 It has 647 rooms and houses the Senate and the Parliament of Hamburg. Hamburg is a city state, one of three in Germany (Bremen and Berlin are the other two), that's why it has it's own government just like the other German federal states.
The statues on the facade represent German emperors and above them, the civic virtues Wisdom, Unity, Piety and Courage. This is a symbol for the independence of Hamburg from the emperors during the time of the Holy Roman Empire. It's status as a Freie und Hansestadt (Free and Hanseatic City) meant that no taxes were payed to the Emperor and that the Emperor did not rule the city directly, citizens xould for example not be drafted. To this day, citizens of Hamburg will not accept medals since by accepting medals and decorations granted by the state like the Federal Cross of Merit, since a medal is a (symbolic) pledge of allegiance by the person accepting it.
The statue on top of the right tower shows St. Michael conquering the devil, just like the statue over the entrance of the
St. Michaelis church