Jerboas are rodents, also sometimes called dipodids, after the name of the family they belong to, the Dipodidae. The two here are Greater Egyptian Jerboas (Jaculus orientalis).
This is a Lesser Egyptian Jerboa (Jaculus jaculus), they are only half the size of the Greater Egyptian Jerboa. Both species run or hop on their hind legs and balance with their tails. They can jump 3 yards from a standing start and run very fast.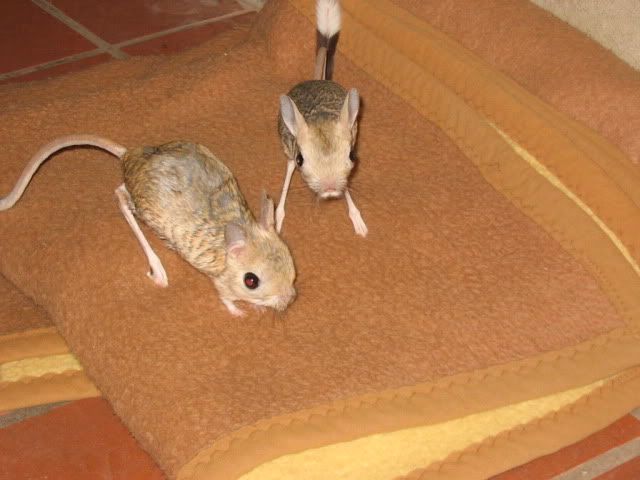 The Jaculus species live in shrublands and deserts, feeding on small seeds in Northern Africa, the Middle East and Central Asia.
Some people keep jerboas as pets, the ones shown here are pets rescued from unsuitable conditions or given up by people who just didn't know what they got themselves into. Jerboas need a lot of room to be active and keeping them in a cage or tank just isn't enough. Sometimes, jeboas will even jump in panic and break their neck on the glass wall of a tank.
I took the pictures at a friends' house, she lets her jerboas roam free, which is about the only thing to do with jerboas to keep them happy. During the day they sleep in a hiding place and will come out at night. They will beg for treats and pester anyone in the room for attention. hey are very intelligent - they actually worked out how a door handle works just from watching and tried to open the door by themselves, jumping up and trying to grip the handle. They are just too light to open the door, though.
Jerboas are among the most absurd animals I know, with the long, spindly legs, the piggy nose and the T-Rex arms. Unfortunately, I don't have any films of them because in movement they look really surreal.
See what else J stands for at
ABC Wednesday