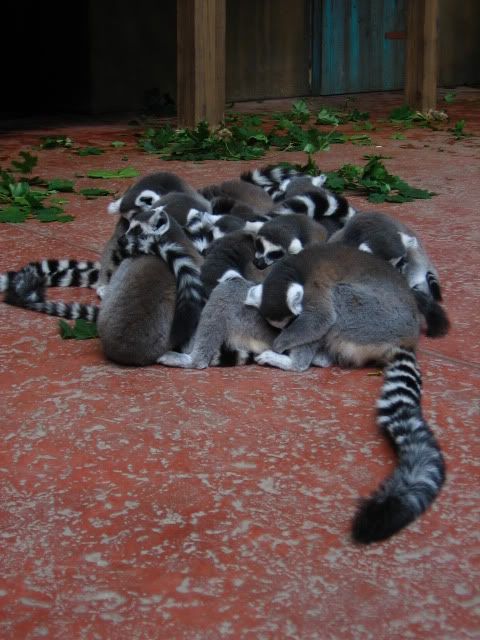 Lemurs are primates native and endemic (living nowhere else) to Madagascar. There are about 100 different species, many of which were discovered in the last 20 years. They were named after the Latin lemures, which refers to ghosts that the Romans exorcise during the
Lemuria festival
. Many lemurs are nocturnal, move silently and ghostlike and some are considered to be ghosts of ancestors, all of which contributed to their name.
This and the group in the first picture are Ring-Tailed Lemurs (Lemur catta). Such a group huddling together is called a lemur ball (seriously!). Ring-Tailed lemurs are well known for sunbathing, with their legs spread wide and their face turned to the sun, like
this
. Their tails are much longer than their bodies and the lemurs use them for communication. When males fight, they will impregnate their tails with the scent from their wrists and wave them at each other, it's called a stink fight (again, seriously!). Females are attracted in the same fashion. I once had a close encounter with one of them and he was absolutely fascinated by my long hair - maybe he was puzzled why I was wearing my tail on my head. Their own fur is wonderfully soft and their hands are like warm, soft leather.
These are Black and White Ruffed Lemurs (Varecia variegata).
The Red Ruffed Lemur is closely related to them and they share their habitat, but they don't mingle. Both species eat mainly fruit, with a special liking for figs. They are rarely seen on the ground and spend most of their life high up in the canopy, jumping deftly from tree to tree and often feed while hanging upside like
this
Ruffed lemurs are very vocal and communicate with a wide range of calls. They for example have different alarm calls for predators on the ground and for birds of prey.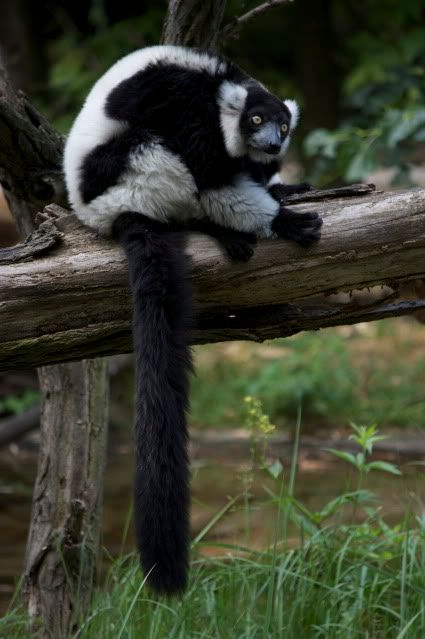 There are many more lemur species. The
Aye-Aye (Daubentonia madagascariensis)
is probably the most weird. My favourite lemur are the
Sifakas
, though, because of their charming method of getting around on the ground by jumping. I always expect them to make boing-boing noises when they do it. Here's a video:
Photos were taken at Hagenbecks Tierpark (Ring-Tailed Lemur), ZOOM Gelsenkirchen (Red Ruffed Lemur) and Tierpark Berlin (Black and White Ruffed Lemur).
See what else K stand for over at
ABC Wednesday