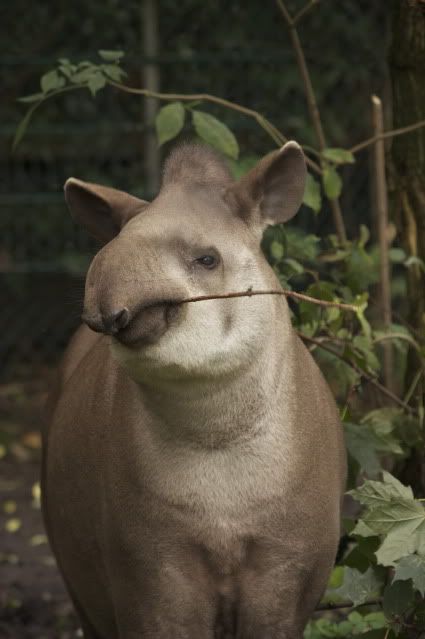 This is a South American or Brazilian Tapir (Tapirus terrestris). They are about 2m long and have a shoulder height of 1m. At that size, Brazilian Tapirs are the largest land mammals in South America and have few predators - jaguars are known to hunt tapirs and crocodiles will prey on them, too.
Tapirs live secretive lives in the dense rainforest and prefer to keep close to water if there is some in their habitat, they will often seek refuge in the water when something startles them. They can swim very well, but are also surprisingly quick on land.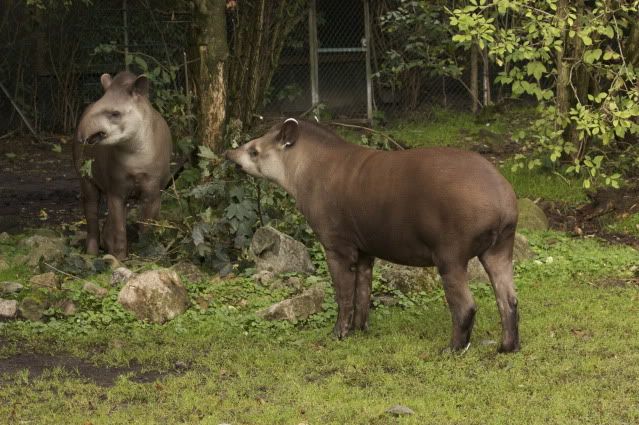 The snout is very mobile and can be used to grasp small twigs, to dig in the earth and of course for smelling, it's common to see tapirs moving their snout around to be able to smell better, especially when bulls are following the scent of a female, this is called the Flehmen response and looks like
this
The babies of all Tapir species look like wild piglets, with stripes and spots that make them invisible in the undergrowth. The mother is pregnant for 13 months and gives birth to a single baby. Tapirs can reach an age of 25-30 years.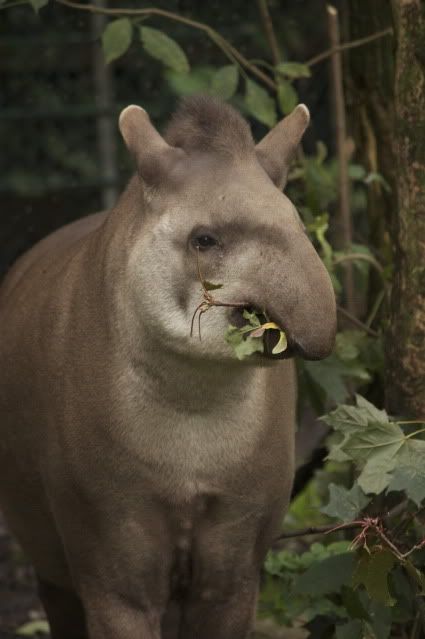 They feed on plants, fruit and berries and will follow existing trails in search for food. Tapirs that live near a river or lake will feed on water plants and may even dive to get at them. Like pigs (to whom they are related) they like to wallow in mud to cool off and to get rid of parasites. Edit: I stand corrected - they are not related to pigs, as
The Language Hammer
pointed out in the comments.
Tapirs are hunted for their meat and skin, but the biggest threat for them is the destruction of their habitat. I have the sad feeling that I've written this phrase in almost all of my animal portraits. If you want to do one thing for the many animals depending on rainforests as their homes, avoid oil palm products - large areas of rainforest are destroyed to make way for oil palm plantations.
What I like most about Brazilian Tapirs are their ears - look at those cute white eartips. The ones at Hagenbeck, where I took all the photos, also like to be scratched and will bliss out when you get to the right spot (one in particular will even start to drool).
What else does T stand for? Find out with
ABC Wednesday