Oropendola. What a great name. I have no idea where it comes from, though. The birds you can see here are Crested Oropendolas (Psarocolius decumanus).
Oropendolas are
Icterids
, which makes them related to cowbirds and grackles for example. They breed in colonies and build woven nests that are about 4 feet (120 cm) long.
A single male mates with all the females in the colony, but there are more males there who try to find an unobserved moment with the females.
They feed on fruit and insects. I took the photos while they were fed with mealworms, this bird in particular tried to grab all he could and ended up with 12 mealworms held in his beak.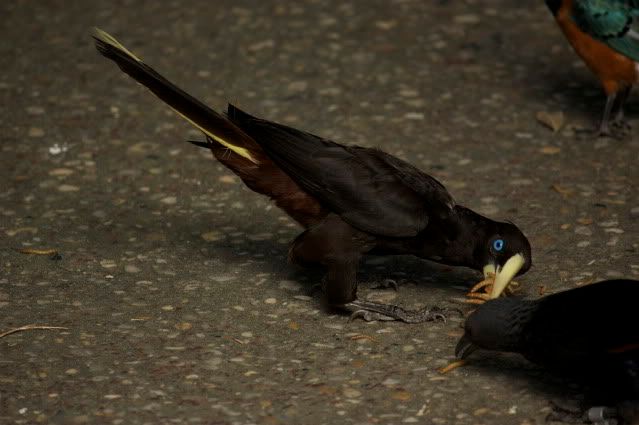 Here's a juvenile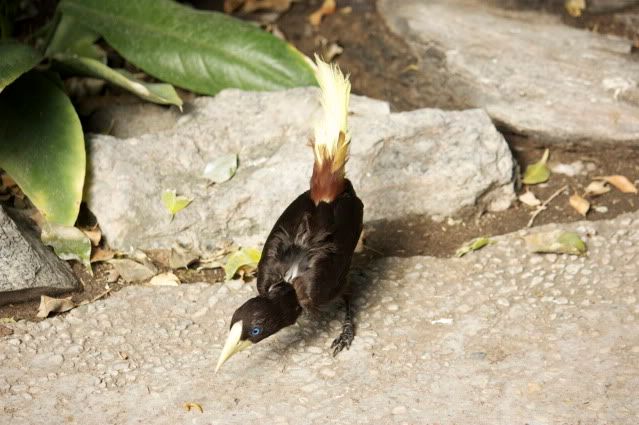 and here you can see the feathers of the crest, it's usually not really visible
The males will attract females with a bowing display and then you can see the crest (females don't have one).
Here's a video
, you can also find a recording of their call on that site (which is a great resource for birds in general).
See what else O stands for at
ABC Wednesday
Photo of the nest was taken at Burgers Zoo, all others at Tierpark Berlin.